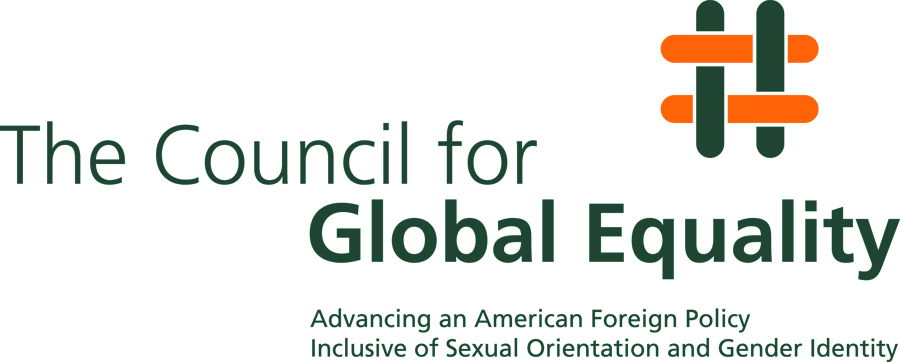 The Council for Global Equality brings together international human rights activists, foreign policy experts, LGBT leaders, philanthropists and corporate officials to encourage a clearer and stronger American voice on human rights concerns impacting LGBT communities around the world.
The Council for Global Equality is a dedicated coalition effort. Our institutional members include many of the most prominent organizations working to promote human rights and LGBT equality in the United States and overseas. This unique collaboration joins the respective expertise and positioning of LGBT and non-LGBT organizations; domestically-focused and internationally-focused organizations; as well as advocacy groups, think tanks, multinational corporations, and research organizations.
Together, Council members seek to ensure that those who represent our country--including those in Congress, in the White House, in U.S. embassies and in U.S. corporations--use the diplomatic, political and economic leverage available to them to oppose human rights abuses that are too often directed at individuals because of their sexual orientation, gender identity or gender expression. The Council also seeks to increase support for foreign LGBT organizations as vital contributors to our country's national interest through the development of free and vibrant civil societies abroad.
We believe the United States should seize the opportunity to join many European and Latin American countries that have now surpassed us in their international commitment to ending violence and discrimination against LGBT communities everywhere. For more information, contact us at: Info@GlobalEquality.org.
Community Initiatives in San Francisco serves as the Council's fiscal sponsor.
Donate to Council for Global Equality
Is my donation and credit card info secure?
Yes, the security and confidentiality of your information is our highest priority. We will not sell, trade or share your personal information with anyone else, nor send donor mailings on behalf of other organizations, and we will only share personal information if you have given us specific permission to do so.
Is my donation tax deductible?
Yes, we are a fiscally sponsored project of Community Initiatives, which is a public 501c3 organization recognized by the IRS. Your donation is tax-deductible to the fullest extent permissible by law.
How do I know that my donation was made successfully?
You will receive an emailed receipt immediately after your donation is submitted and your credit card is processed. Your donation will also show up on your bank or card statement within 1-3 business days.
Do I get a receipt?
Yes, a receipt is sent to your email inbox once your donation is processed. Please be sure to keep a copy of your receipt for tax purposes. If you select a recurring donation, you will be sent an individual receipt each period when your donation is processed.
Is my donation private?
We will not share or sell a donor's personal information with anyone else, nor send donor mailings on behalf of other organizations.